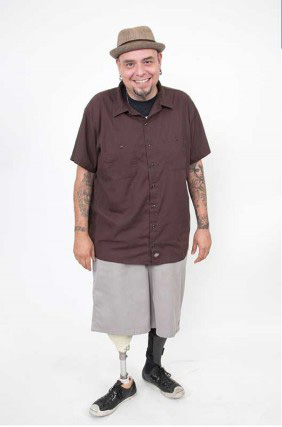 Dynamics is dedicated to giving new life to those who never thought walking was possible again. Our client David, the lead
singer of the punk band Repeat Offenders, was able to get his life back with help from our staff and his new prosthetic leg.
David was first referred to us after losing his leg to an infection which turned his blood septic, resulting in an amputation. He
was apprehensive at first, until he saw another client who recently received a prosthetic leg. "My first visit with Dynamics. I
was in the lobby and ran into a guy that was riding a bike and just got his leg. it was amazing to see him standing, walking
and ride away. i was so inspired by this. I did the same the other day. for someone. I told him, you're going to do great and
be walking in no time." Until this moment. David never imaged he would walk again. but even before his very first appoint-
ment began. he realized there was hope. He has since become an inspiration of his own.
David's mother sacrificed her own time to bring him to and from his appointments at Dynamics, watching her son get his life
back – literally. one step at a time. Working with Mary. one of our esteemed prosthetists. he began to regain his strength
and learn to use his prosthetic leg. "My mom has come with me every time, Mary is awesome, she's given mom and myself a
lot of happiness, always good news every time we leave." David now has a new lease on life. He quickly regained his inde-
pendence. with his family and friends by his side. Without his wheelchair, he is able to enjoy spending time with his children
in ways he could not before. His friends were surprised and proud to see him walk again and join them bad at their old
haunts and clubs.
David is now playing music again. embraced by the punk rock scene. and becoming an inspiration to many around him. He is
able to be the independent person he once was. enjoying life to the fullest. He is very thankful for Dynamics and our staff.
particularly Mary who he plans to thank on his new record. "I appreciate life much more than ever before. I appreciate every
day. Much more thankful… and try to enjoy the things I used to take for granted." David, much like all of our clients, is an
inspiration to all of us at Dynamics.