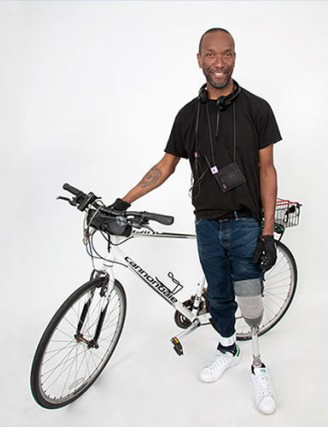 When Eddie first came to us, he was still dealing with the trauma of losing his leg to an infection set on by diabetes. "First I was in shock, had to process… took some time, it wasn't easy. There was nothing that I could do because the infection was in my blood stream and it was getting worse." After a successful surgery at the Harbor UCLA Hospital, while still in the hospital he was visited byDynamics for his initial prosthesis fitting, his Immediate Post Operative Prosthesis This is when he began his journey with us to walk again.
Throughout his rehab process, Eddie worked with the Dynamics team, including, Mary to regain his strength. As with each patient we meet, Eddie was the star player in his own recovery. "…Pretty much everything was up to me. A couple of therapists at the hospital helped a great deal, with physical therapy and exercises " It was not long before he began seeing results and was able to enjoy the independence he once knew. His strength was and still is an inspiration to his family and friends, as well as many strangers he has made into friends. Eight years later, Eddie is taking advantage of every day with his new leg. "I enjoy maintaining an active lifestyle, cycling is my biggest love right now." Throughout his process, Eddie never gave up hope. In fact, his experience gave him a new, refreshed outlook on life. "After the amputation (I've] been pretty driven to lead a normal lifestyle. During the process, I started reading spiritual self-help [books]… reinventing myself, and realizing how important it was to let go and move forward, and not being held back. I was embracing an artificial [while) limb while connecting with my inner self and outer self, (my] physical mental state. Cycling was putting me in a peaceful zone."
Receiving a prosthetic leg made things possible that Eddie had given up on, "Realizing that having the prosthetic meant that some of things I thought were done were not done, it was just a new beginning " His story is one we see often, and that's what makes what we do at Dynamics so amazing. Eddie continues to pass on his hope to others. "I see people all the time with amputations. They ride in wheelchairs… I just stop and engage in conversation, I show them that I have a prosthesis. I hope that it's encouragement to someone.