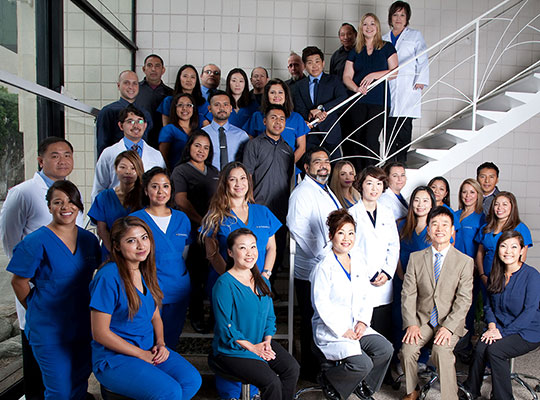 Dynamics Orthotics & Prosthetics has always believed that conducting practices to the highest standard levels will ultimately lead to success in our field. Dynamics is an accredited facility by the American Board for Certification in Orthotics and Prosthetics, National Commission on Orthotic and Prosthetic Education certified, and supports the Amputee Coalition of America.
The Mission of Dynamics Orthotics and Prosthetics, Inc. is to provide the highest quality of rehabilitation services to meet the personal needs and improve the health status of people in the communities we serve.
We are more than just a company, we pride ourselves on building a community that encompasses not only our patients, but our affiliation of caregivers, social workers, therapists, nurses, and physicians. As a private, family-owned company, we want to make you feel as much a part of our family as possible.
Dynamics is at the forefront of technology, creating innovative and custom prosthetic & orthotic products and with special attention to each individual. Our services are efficient and timely, ensuring you have the ability to gain your independence back as quickly as possible. Your goals are most important to us and helping you achieve them is truly a pleasure for us.
The communities we serve are a diverse group and we are proud to be a diverse group ourselves — allowing us to cater to each specific person as best as possible. We understand that each individual and each situation is different, thus offer you friendly, compassionate services for your unique needs. We look forward to helping you on your journey to walk again.
---
Peter J. Sean

Chief Executive Officer, ABC Certified Prosthetist Orthotist

Omar Rivas

Director of Marketing

Sarah Morris

Director of Contracting

Sue Sean

Head Prosthetist, ABC Certified Prosthetist, Mastectomy Fitter

Sandy Lee

ABC Certified Prosthetist, Orthotist, Mastectomy Fitter

Kyu Oh

Head Orthotist, ABC Certified Orthotist

Sean Collins

Certified Prosthetist

Christian Meier

Resident, ABC Board Eligible Prosthetist, Orthotist

Steve Choi

Resident, ABC Board Eligible Prosthetist, Orthotist

Anita Hernandez

ABC Certified Mastectomy Fitter

Joseph Armenta

ABC Certified Orthotic Fitter

Jahir Escoto

Certified Orthotic Fitter

Elizabeth Jauregui

Los Angeles Office Manager

Joanna Escamilla

Torrance Office Coordinator

Daisy Quintana

Mission Hills Office Coordinator

Griselda Azucena

County Hospital Office Coordinator

Rose Aguilar

Apple Valley Office Coordinator

Serena Jang

Billing Manager

David Kim

Lead Technician
---
Dynamics is committed to improving the quality of service and raising the standard in the prosthetic and orthotic industry. We believe that individual attention to our patients, products, and training is the key to our success today and in the future
OUR GREATEST STRENGTHS
Dynamics is a full-service provider working in conjunction with physicians, nurses, physical therapists, social workers, and caregivers. We provide 24-hour on-call service to over 10 major hospitals in the greater Los Angeles area.
INTEGRITY
EXCELLENCE
INNOVATION
RELIABILITY
COMMUNITY
EMPATHY